Baby things, especially newborn things, are super sentimental to me.  That newborn stage just goes by WAY too fast.  Walt and Oliver's teenie tiny bodies grew much faster than I could've ever imagined.  Whenever I hold one of my friends' newborns, it is just so hard to comprehend that my babies were ever that small.  One of the sweetest shops, By Olima, reached out to me about collaborating with their amazing company and I immediately said YES.  The wall art she creates is truly the art of your heart.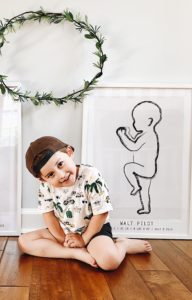 By Olima prints your baby to scale 1:1 on a 19 x 27 wall art.  The size of your baby at birth is exactly what is printed on the artwork.  The artwork is printed on high-quality, thick, semi-matte paper.  The prints are custom to your babies measurements and weight, and you can choose if you want your baby facing left or right.  By Olima offers six different sketch options to choose from in a variety of colors.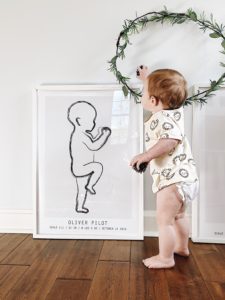 By Olima prints cost $60, but if you use code SARA20 at checkout you will get 20% off!  They always ship for free, too!  I love these prints because no matter how big my boys get I will always be able to look back at these and remember just how tiny they once were.