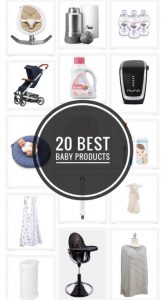 When I first found out I was pregnant with Walt I was completely overwhelmed when I walked into Babies-R-Us for the first time.  TOTAL sensory overload.  I had no idea what I was supposed to get, how most things worked, or what I even needed.  Thankfully my older sister, Nicole, sent me an email with all of her top baby products that she thought were crucial.
There are so many brands out there that carry similar products, and it is sometimes hard to know what works well and what doesn't.  We visited multiple baby stores, got a hands on testing experience with our choices, then filled out our registries.  We then went home and read reviews on the products we had chosen and made some changes.  Reading reviews on Amazon and other similar sites absolutely saved us from making some poor decisions!
I decided to make my own list for all of my new mama friends.  Here are twenty of my favorite baby products out of the bajillion out there.  I use the majority of these products almost every day and they are seriously so helpful!  I also added a new "Shop Baby Products" section at the top of my blog for more of my baby + toddler favorite products.  Check it out and let me know what you think!