It's no secret that I LOVE for my house to be white, bright, and clean!  One of my most frequently asked questions is how do I keep my house clean with it being so white.  Cleaning for me is therapeutic so I do it daily while listening to my music, and that helps a lot.  We have taught Walt and Oliver to eat in the kitchen, so I don't have to worry about their sticky hands all over our sofa.  However, I do have to worry about our rugs and the beating they take from our drooly baby, dirty shoed toddler, messy hubby, two tiny dogs, and the walking dirt and hair factory that is our lovable golden retriever, Nala.  We live in one of the rainiest cities in the United States, so our dogs end up with muddy paws from the wet ground on a regular basis.  Nala LOVES to play in the rain, but once she's ready to come inside it's usually a battle to keep her off of our rugs.  She almost always gets a paw print or two on our rug by our backdoor.  My cure for that: the Hoover Power Scrub Elite Pet Plus Upright Carpet Cleaner.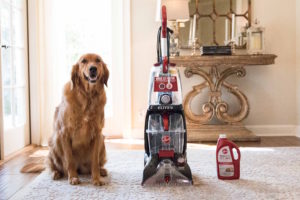 Hoover's Power Scrub Elite Pet gets my rugs cleaner than any other carpet cleaner I have used in the past.  We picked it up at Home Depot along with the Hoover Pet Plus Carpet Cleaning Solution. My favorite function is the quick clean mode, which gets your rug dry in 45 minutes or less.  The less time our floors are wet, the better with three dogs and two little boys running around!  Thanks to this feature I actually clean our rugs more frequently because I don't have to wait a full day for it to dry.  The cleaner also has a deep clean mode for those really tough stains.  The deep clean mode cleaned our rug so well that I was shocked at how dirty our rugs actually were!  The Power Scrub is also lightweight and easy to carry around the house.  Total win for me, because we have stairs ALL over our house!  Here are two before and after pictures of our rug using the deep clean mode.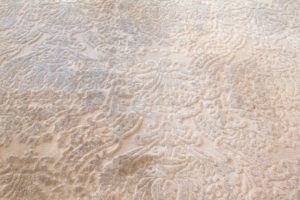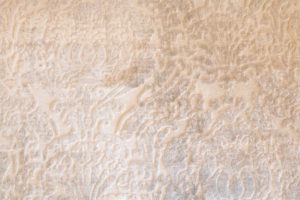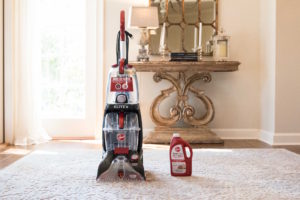 The Hoover Power Scrub Pet Plus is very easy to set up and use.  The tank on the cleaner is very large enabling you to be able to clean longer without having to refill it.  The right side of the tank is where you insert the Pet Plus Carpet Cleaning Solution.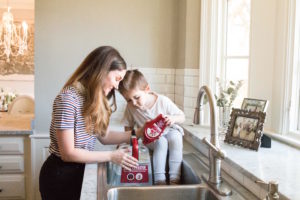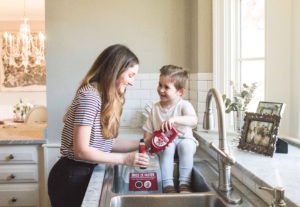 The left side of the tank is where you fill it with water.  The cleaner automatically mixes the perfect amount of detergent and water for best cleaning results.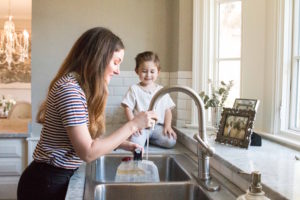 Once you have filled the tank.  You can choose deep cleaning mode or quick cleaning mode depending on what you need.  Then, put the cleaner in wash mode, and you can start cleaning!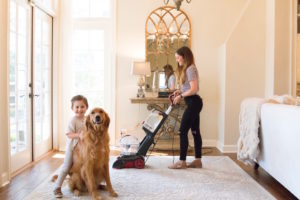 The cleaner has an Antimicrobial SpinScrub Brush System which helps prevent bacteria and odor from escaping while you're cleaning.  I really appreciated that when I was cleaning Nala's dirty paw prints.  There is also an attachment on the cleaner that I used on the stains that weren't coming out as easily.  I let the cleaner attachment hover over the spot for about thirty seconds and then I scrubbed it really well, and the stain came out!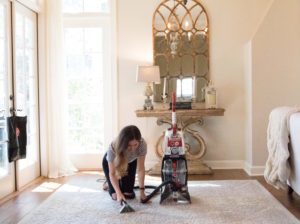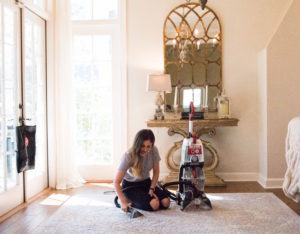 When I was finished cleaning I switched it from wash mode to rinse mode and rinsed the whole rug with clean water.  I was pleasantly surprised at how well the Hoover Power Scrub Pet Plus worked, but also a little disgusted at just how dirty our rug was!  In the picture below you can see the dirty water the cleaner got out of our rug.  So nasty!  I felt so bad for Oliver thinking about him crawling all over that dirty rug before I cleaned it!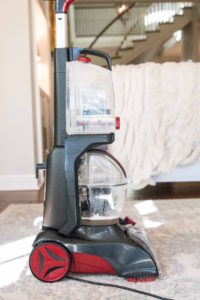 The Hoover Power Scrub Pet Plus is a staple in my home.  Now our Nala girl can play in the rain all she wants, and I don't have to stress about our rugs when she comes inside!
The Home Depot sells the cleaner and solution in-store or online with their FREE ground shipping!  If you have pets or toddlers running around then this is definitely a product that you should consider to help you keep your rugs spotless!