This recipe is so easy, healthy, and good! I can prepare it and have it ready to eat in about 45 minutes.  Fast, healthy meals for my family? Yes, please!  I'm no chef, so I'm very proud to say that I came up with this one completely on my own, with no added help from Pinterest.
I started making this when Walt was first starting solids.  He had a hard time adjusting to certain textures.  He would eat ground meats, but not sliced meats.  He would eat rice but didn't want any kind of traditional pasta.  I tried orzo, a pasta which looks like a rice, and he loved it.  Mom win!  This recipe is also only 320 calories per serving and packed with protein. Perfect for bikini season, haha.  I added a nutrition chart at the end of this post.  Hope you guys like it! It's certainly a favorite around my house!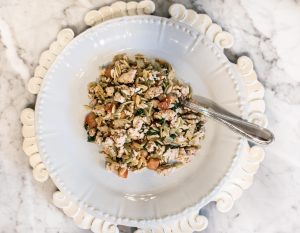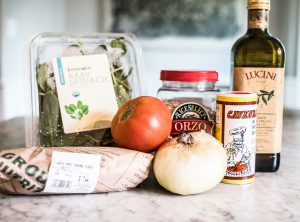 Ingredients:
1. 1 1/2 Cup Orzo Pasta
2. 1lb. Ground Turkey (can substitute chicken or beef)
3. 1 Tomato
4. 1 Onion
6. 1 Handful of Baby Spinach
7. 1 tbsp Olive Oil
8. 1 tbsp Greek Seasoning
Directions:
1. Chop the onion, tomato, and spinach.  Set the tomato and spinach to the side.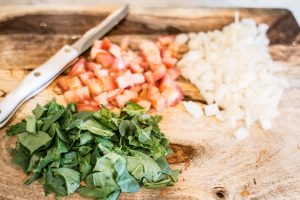 2. Drizzle a large skillet with olive oil.  Add your meat.  Chop the meat further if needed.
3. Add onion and greek seasoning.  Cook on medium heat until onions are translucent and meat is fully cooked through.  Then turn heat to low.  Stir occasionally.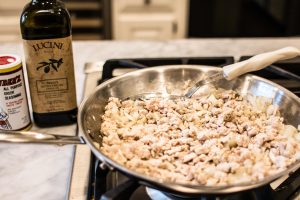 4. Add water to a medium saucepan.  Once it is boiling, add the orzo.  Cook for about 7 minutes or until done.  Pour orzo into a strainer.  Then add it to the skillet with the turkey and veggies.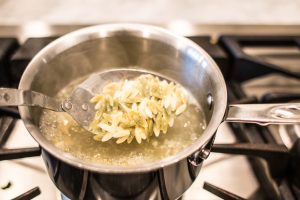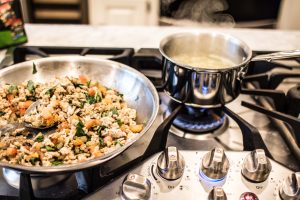 5. Add spinach and tomato.  Once the spinach is wilted its ready!