Organization is one of those things that can just drastically alter my mood.  When everything is organized, life is so good.  When it is not,  I feel like my life is in shambles!  True story.  With two kids in school, Walt starting to play sports, three pups, and a husband, our schedules are starting to get hectic and someone always has somewhere they need to be.  Having this handy dandy START planner has literally made tackling the to-do list so much easier and made my life happier!  I can keep up with all of our lives in this one tiny planner.  THANK YOU START planner!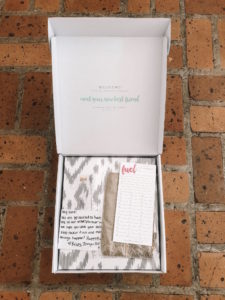 You guys know I love good packaging, and this planner definitely has it.  I immediately fell in love with this greeting by my new best friend, haha.  So accurate!  STARTplanner has two main lines of planners.  The Fancy Pants and the Hustle.  I chose the Hustle weekly planner because the layout worked better for me!  I like seeing everything I have going on for the week at a glance.  The size of a planner is 8 3/4″ by 11″.  It's the perfect size for putting everything I need into it, but not having it overtake all of my desk space at the same time.  It doesn't only play a key role in helping keep all of our lives in order, but it also has tools to help with to-do lists, financials, and staying healthy!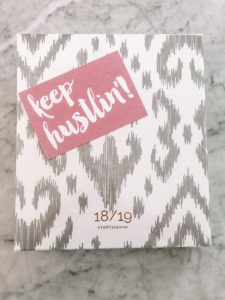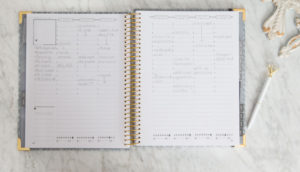 At the bottom of each day, the STARTplanner has included a place to mark if you have taken your daily vitamins, worked out, or gulped down the recommended eight glasses of water you should drink a day.  While all of these are great, the water tool has helped me tremendously with remembering to drink water all throughout the day!  On the side of every week, there is a weekly to-do list.  I love having my to-do list in my planner instead of on a sticky note beside it like I use to do.
START planner offers a variety of accessories for your planner that are all quite amazing.  This fuel notepad is perfect for a grocery store run.  It's small enough that you can just throw it in your purse and write something down anytime you think of an item you need.  It offers space for groceries as well as meal planning for the week!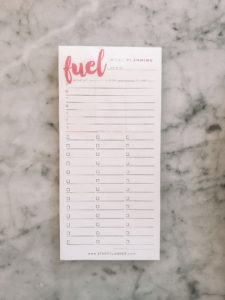 The START planner is a definite upgrade on the way I used to manage our family activities.  Give it a try if you are looking for a well-designed planner with plenty of features that will make tackling the SAHM mayhem a little less chaotic!