I'm OBSESSED with these marble eggs!  I originally got the idea from a blog I found on Pinterest, and it was a total Pinterest fail.  So I tweaked the directions and it worked perfectly.  This craft is super easy, super cheap, and really pretty.  Especially for marble fanatics like me!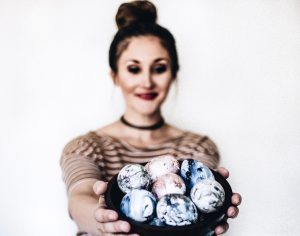 Materials:
1. CHEAP Nail Polish (I got the cheapest/prettiest I could find)
2. 25oz. Plastic Container (one that you don't mind throwing away)
3. Craft Eggs or Real Eggs (I used craft eggs like these so I could keep them as Easter decor)
4. Water
Directions:
1. Boil and cool eggs to room temperature if you're using real ones.
2. Fill plastic container 3/4 full with room temperature water (cold water won't work and polish will sink to the bottom).
3. Drizzle nail polish into water softly and use a good amount.  I softly drizzled it in for about three seconds.  If you don't use enough it won't work.
4. GENTLY stir the polish with a popsicle stick. Go in a circular motion to make a marble look.
5. Put on disposable gloves if you want to stay clean.  I opted out of the gloves because I felt like they were messing it up. WARNING: If you don't use the gloves your fingers will be covered in polish like mine were.
6. Start from one end of the container and put the egg in horizontally.  Roll it like a wheel barrel to the opposite end. The polish makes a film around the egg.
7. Put on the backside of the egg carton to dry.
8. Use fingernail polish remover to get off any polish on hands when finished.
TIPS:
Use more polish for a deeper color.
I was usually able to finish two eggs before adding more polish.