Bathing suit season is just around the corner (or already here where I live), but I just can't help myself when Easter rolls around and those delicious Reese's peanut butter eggs come out.  I truly have an addiction to them!  When we pass the display at Target that ALWAYS has bags of Reese's in it, Walt likes to yell out as loud as he can "there's mommy's snack".  Haha, embarrassing.  I know.  Instead of buying a (giant) pack this year, I decided to try to make some myself.  These turned out so good.  I mean seriously… they are SO good!  I already had every ingredient I needed for the recipe at home except for one, so it was super easy!  They also take very little prep work time, which is a big win for busy mamas like me.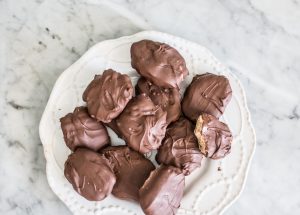 Ingredients:
I'm putting the specifics of what I used in parentheses, but just use your favorites!
1. 1 tsp. Vanilla (Los Cinco Coles Organically Grown)
2. 1 1/4 Cup Powdered Sugar (Woodstock Organic)
3. 1 Cup of Peanut Butter (fresh ground, I got mine from Fresh Market)
4. 1/4 Cup Unsalted Butter (Greenwise Organic)
5. 10 oz. Milk Chocolate Baking Chips (I used Guittard. All natural, Non-GMO, Gluten Free)
I've never looked at the ingredients in Reese's and I don't want to… it will ruin them for me!  For these, almost everything was organic, so I know I'm already ahead health-wise by eating these.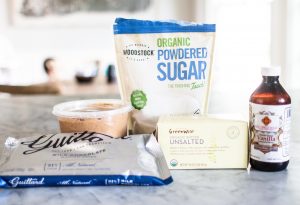 Directions:
1. Line a baking sheet with parchment paper.
2. Mix the butter, vanilla, peanut butter, and 1 cup of powdered sugar into a medium saucepan.
3. Stir constantly over medium heat until you have an even consistency and it starts to bubble around the edges.
4. Remove the saucepan from the heat and add in the remaining 1/4 cup powdered sugar.
5. Put the peanut butter mixture into a mixing bowl and into the refrigerator to cool (this makes it easier to form into an egg shape).
6. Shape the peanut butter mixture into egg shapes, or use a cookie cutter if you have one.  I didn't so I just formed it with my hands.  I flattened them out then curved the edges into an oval shape.
7. Place eggs on lined baking sheet and into the freezer for about an hour.
8. Melt the chocolate in the microwave (I did one minute, stir, 30 seconds, stir, and it was perfect).
9. Using two forks, dip each egg into the chocolate and then back onto the lined baking sheet.
10.  Put back into the freezer for about an hour.
11. ENJOY! 🙂
Tip:
The chocolate on these will melt faster than Reese's chocolate so I would store in freezer or fridge.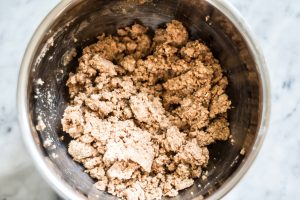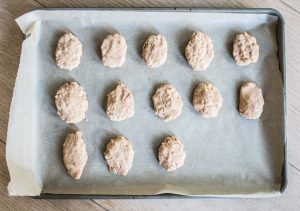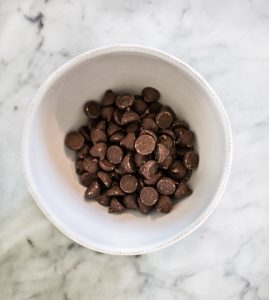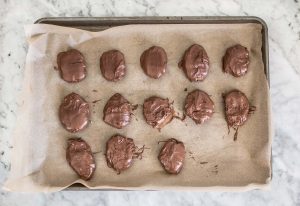 Walt couldn't wait any longer and had to take a bite of one, haha