I recently got a Lorena Canals rug after eyeing them for quite a while.  I saw them all over Instagram and finally decided to try one out.  I was instantly attracted to them because they are MACHINE WASHABLE.  How perfect is that??  People always ask me how I keep my house so clean with all the white, but it really is quite easy.  Machine washable rugs just make that job a little bit easier though with my "schnack" obsessed tot!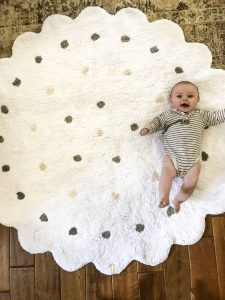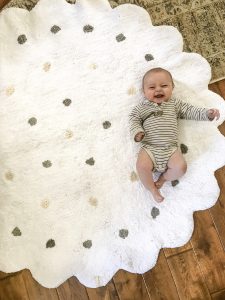 I haven't been able to decide exactly where I want to keep the rug yet.  I love it in Walt's toddler room (which is FINALLY almost done)) and I love it in the playroom!  I may just need to get another one to solve this problem.  I got the Little Biscuit rug in white.  They have a round monochrome alphabet rug that I'm slightly obsessed with as well!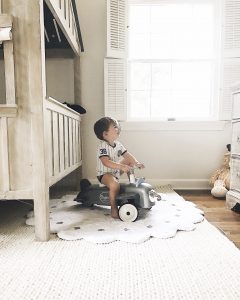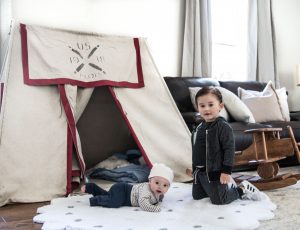 I was a little worried about what the quality of the rug was going to be like for it to be machine washable, but I was pleasantly surprised!  They are very well made and super plush.  They are perfect for Oliver rolling around and spitting up on because I can just throw it in the washer when he has saturated it in drool. Ha!  Every mama would be saving themselves a lot of time cleaning by getting one of these rugs!