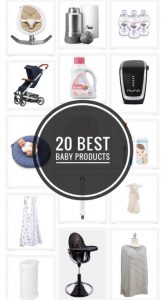 When I first found out I was pregnant with Walt I was completely overwhelmed when I walked into Babies-R-Us for the first time.  TOTAL sensory overload.  I had no idea what I was supposed to get, how most things worked, or what I even needed.  Thankfully my older sister, Nicole, sent me an email with all of her top baby products that she thought were crucial.
There are so many brands out there that carry similar products, and it is sometimes hard to know what works well and what doesn't.  We visited multiple baby stores, got a hands on testing experience with our choices, then filled out our registries.  We then went home and read reviews on the products we had chosen and made some changes.  Reading reviews on Amazon and other similar sites absolutely saved us from making some poor decisions!
I decided to make my own list for all of my new mama friends.  Here are twenty of my favorite baby products out of the bajillion out there.  I use the majority of these products almost every day and they are seriously so helpful!  I also added a new "Shop Baby Products" section at the top of my blog for more of my baby + toddler favorite products.  Check it out and let me know what you think!

fridababy NoseFrida
The NoseFrida is so crucial when your little babe is sick. The idea of sucking out your baby's boogers is really gross, but I PROMISE it's not bad at all. You get to control the suction level which is great because it allows you to really clear them out when they are stuffy.
Tommy Tippee Closer to Nature Anti-Colic Bottles
Tommy Tippee Closer to Nature anti-colic bottles are my all time favorite. Not only are they anti-colic, but they also have a built in heat sensor. It ranges from purple (room temperature) to bright pink (way too hot).
Dreft Baby Detergent
Dreft baby detergent is heavenly. It has a smell that makes you just want to sniff your baby 24/7. I told my younger sister about it when she was pregnant with her first baby, Iris, and she didn't end up getting it until Iris was about four months old. She talks about how much she regrets that all the time. I'm telling you guys, it's the most addicting smell.

ubbi Diaper Pail
The ubbi Diaper Pail is a really well made product. We started off with a Diaper Genie with Walt.  It worked perfectly up until he was about a year and a 1/2 and was eating only solid foods.  Walt's nursery literally stunk ALL THE TIME.  While the diaper genie is made out of plastic and doesn't keep the smell in very well, the ubbi is metal and does a great job of containing the stink.    It's a bit pricey, but if you don't want a stinky room, splurge for this one!
Phillips Avent Silicone Pacifiers
I love these pacifiers because they don't have characters all over them. Oliver took to the shape of these very quickly.
Tommie Tippee Travel Bottle Warmer
The Tommie Tippee travel bottle warmer is amazing! It's such a simple product that has saved us so many times. It's basically just a thermos, but the top flips over so you can put your bottle in it and warm it on the go. We use it all the time when we're going out to eat, running errands for the day, and when we travel!  Total lifesaver!

Mutsy Nexo Umbrella Stroller
The Mutsy Nexo umbrella stroller is so nice.  It's really well made, looks extremely nice, moves easily (with one hand), and folds easily. It's a tad on the heavy side, but completely doable. The weight is also distributed evenly so when you put your diaper bag on the back when your babe isn't in it, it won't tip over. SCORE!
Bloom Contemporary Highchair
The Bloom contemporary highchair is by far my favorite high chair I've come across. The downside is that it's very expensive for a highchair. We splurged on this, but we decided it was worth it since it's something we're going to use for all of our kids. It has a circular base and takes up less room than a lot of high chairs I've seen. it also swivels to make moving your baby around very easy. There is also a feature that allows you to lay the seat back at an angle in infant mode. Walt and Oliver slept in it while I was in the kitchen with cooking dinner long before they needed it as a highchair.
Pello Floor Pillow
The Pello floor pillow is one of those products that makes me feel more at peace. It's so perfect for babies learning how to sit up. They are protected all the way around, so when they inevitably fall over they don't hit their heads.  Walt still lounges in it occasionally.  We originally got a Boppy Lounger, but found that the Pello worked so much better as our kids were getting older.

Nuna Leaf Sway
The Nuna Leaf Sway is my favorite swing! It's super lightweight which makes it easy to port all around the house. It can also support up to 130lbs. Making it a product that can be used beyond the baby years.
Nuna Leaf Wind
The Nuna Leaf Wind is an attachment that you can buy for the Nuna Leaf that makes the swing automatically sway. We didn't have this part with Walt and I always wished we did. We got it when we were pregnant with Oliver, and I really love it! You can control the amount of swing which is really nice.

Little Girafe Hooded Towels
Little Giraffe hooded towels are a great size and super soft. I LOVE cuddling with Oliver after his bath while it's wrapped around him.
Noodle & Boo Bath Products
Noodle & Boo smells SO good. I have almost all of their products and love each of them. They even have a room diffuser now which I keep in both the nursery and Walt's room. It's gentle on their skin and leaves them smelling amazing. I even use their bubble bath for myself, haha.
BabyGund Lovies
BabyGund lovies are our favorite stuffed animals. They are such a great size and very cuddly. Walt has the giraffe that he sleeps with every night. Oliver has the white puppy.

Covered Goods Nursing Cover
Covered Goods nursing covers make nursing in public a lot less awkward. I NEVER nursed in public with Walt, but I have with Oliver quite a few times. This cover makes it easy. You're completely covered, you can see your babe, and they are really soft. They fold away nicely, making it easy to keep in your diaper bag or purse.
Bebe au Lait Swaddles
Bebe au Lait swaddles are so cute! They have such precious designs. The muslin material is really soft and makes swaddling your babe easy peasy. We also use these for car seat blankets as well!
Solly Baby Wrap Carrier
I'm a HUGE fan of baby wearing. Its just such a sweet bond with your baby. The Solly wraps and Wildbird are my favorites.

Dockatot Grand Dock
Dockatot Grand Dock is perfect for families that travel. We use ours every time we travel for Oliver to sleep in. It comes with a carrying case that keeps it from getting dirty.
Natursutten Pacifiers
Natursutten pacifiers are 100% natural rubber. They don't have any cracks or joints where dirt and bacteria can accumulate.  I always rotate between these and the avent mentioned previously.
Tiny Universe Pacifier Clips
Tiny Universe paci clips are amazing. Any paci clip is great really, because they just make life so much easier.  I'm really into the braided ones and this one is a good length.