THE NORDSTROM ANNIVERSARY SALE IS OFFICIALLY OPEN TO EVERYONE! Yay!  I'm doing a round-up on my favorite tops that I was lucky enough to score with early access.  But first I need to start off by giving Davis some mega props.  The first night the sale opened for early access, he got up with me at 4am to shop!  He made me coffee while I got to work.  It was amazing. He got the best husband award for sure!  Now, back to the sale.  Items go out of stock rather quickly so don't wait to purchase something that you really want.  On the flip side, Nordstrom is constantly restocking items so it's possible you could still score something you missed out on if you check back later!
This Free People Valencia Pull Over is literally going to be one of my favorite go-tos.  It is the perfect length to tuck into your high waist jeans.  It's really comfortable and super soft.  This color is already sold out, but they still have a pretty brown and purple in stock right now!
Price: $68.00 marked down to $44.90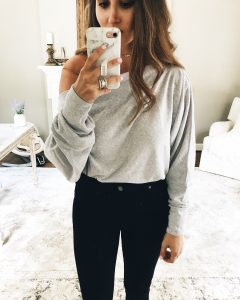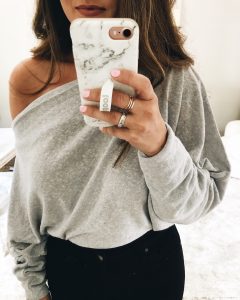 This B.P. Rib Knit Cardigan is AMAZING.  Unfortunately, it's already sold out in this color!  They do still have it in stock in a really pretty beige, which is actually the color I almost got!
Price: $49.00 marked down to $31.90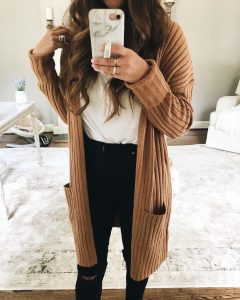 Leith High/Low Wrap Tunic is really soft and a pretty pattern, but the fit needed a little work for me. The material is so silky that it doesn't stay tied firm enough at the bust.  I'm more than likely going to get my mom to add a little stitch in to keep it conservative enough!
Price: $75.00 marked down to $49.90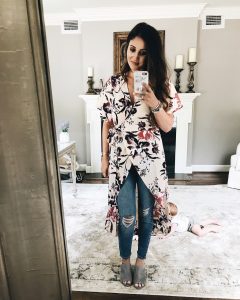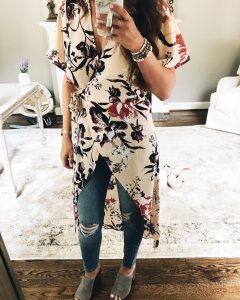 This Carlson Rounded V-Neck Tee is the perfect transition tee from summer to fall.  I love tying it in a knot like this or tucking it into my jeans.  I even wear it with my workout pants on lazy days around the house.
Price: $25.00 marked down to $17.90.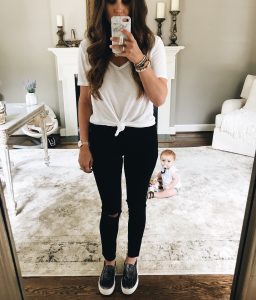 Madison and Berkeley Cold Shoulder Ribbed Top is such a pretty color!  The fit is pretty decent.  I do wish the V-neck part of it came down just a tad because it hit my chest at an awkward spot.  It's an easy throw on top when you're running errands or you can dress it up a little by tucking it in.
Price: $29.00 marked down to $18.90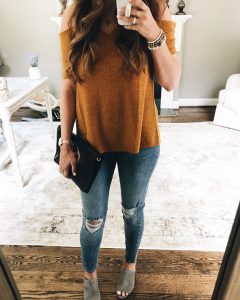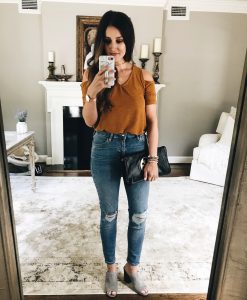 I'm SO sad to say this top has already sold out!  It's a BP. Cutout Neck Pullover.  It was originally listed in several different colors and I got it for $31.90.  I'm really hoping they restock this one!  I will keep checking for everyone!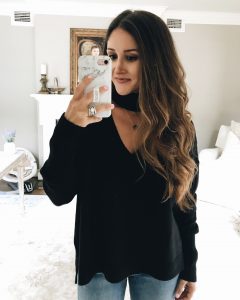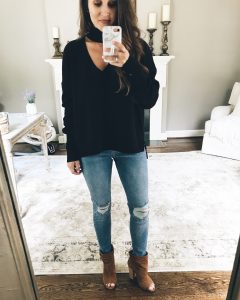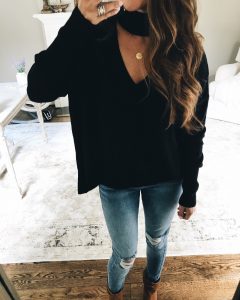 This is a Socialite Cozy Thermal Top and its name fits it perfectly.  The color I'm wearing is called Soft Rock and it's a really pretty mauve.  I'm thinking about getting it in other colors because it's a great price and such an easy top for errands!
Price: $38.00 marked down to $24.90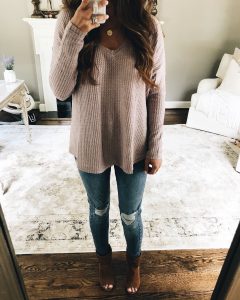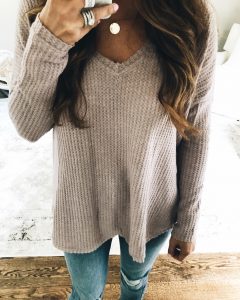 BP V-Neck Pullover.  The PERFECT piece for fall.  It can be dressed up or down.  Fits perfectly, and really pretty colors!
Price: $39.00 marked down to $24.90.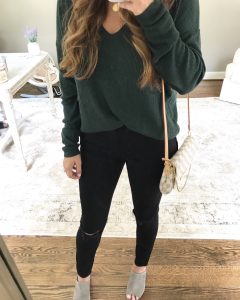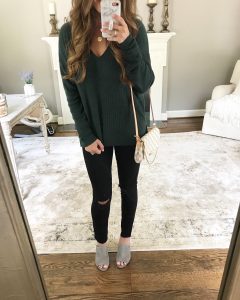 Helllloooooooo fall perfection.  I'm so in love with this top.  I'm so into the velvet phase, but haven't been able to find anything that looks good on my for some reason until I found this top.  You will probably see it all over my Instagram because I'm going to live in it this fall/winter.  It a Chloe and Katie Velvet Remix Sweatshirt.
Price: $45.00 marked down to $29.90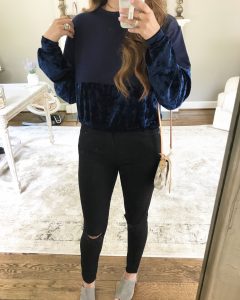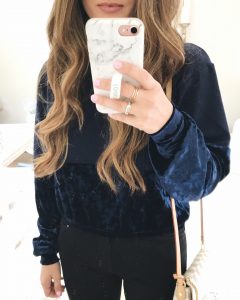 Still in shopping mode?  Check out this post I did for new and expecting mamas on the 20 Best Baby Products of 2017.