Walt had a birthday last week, and I am still trying to get over the fact that my once teenie baby is now THREE!  This year is going to be the last year that I host a birthday party at home for him for awhile, so it was my last chance to go all out decorating my house with cute kids decor until Oliver gets older.  Walt is obsessed with superheroes, particularly Batman, so I knew right away that would be the perfect theme.  Utilizing Batman's color scheme allowed me to keep the decor monochrome.  We learned the hard way on his first birthday not to spend a ton of money on decor, as it rained the entire time and ruined everything!  I was thrilled that we were blessed with great weather (minus the BLAZING heat that day with 100% humidity), but this time I was able to find all of his decorations, including invitations, shipped from my favorite new company in Austrailia for under $200!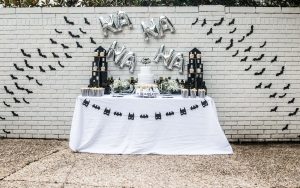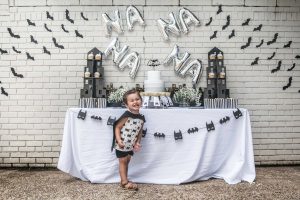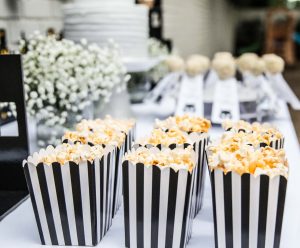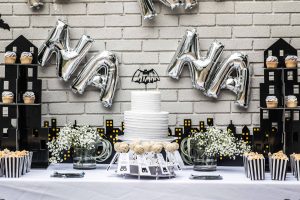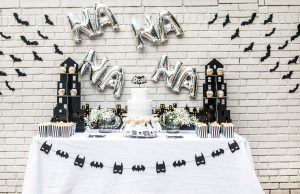 I LOVE the way all the decorations turned out!  I remember swinging on our backyard swing growing up shouting "NA NA NA NA NA NA Batman" as I jumped off.  My mom recently told Walt about it, and he has been running around the house yelling it!  It is seriously so cute.  That was my inspiration for the balloon backdrop.
I got the balloons from Love Garlands on Etsy. The black and white striped popcorn boxes were from PartyDelights and were also from Etsy!  They were so cute and perfect for those tiny toddler hands.  The building cupcake stands were HUGE.  I didn't even put the bottom level on them because they were way too tall.  The "Gotham City" skyline was from Target and was lightweight and stuck easily to our brick with tape.  The table banner was from Paper Creations.  They are a super cute shop with tons of options.  The bats around the table were from Pixel and Print.  They shipped extremely fast and were really well made.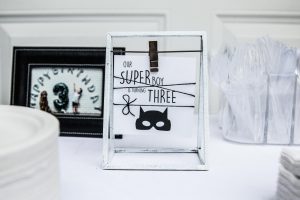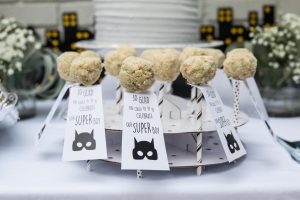 The invitations and cake pop capes were both from my favorite new invitation shop, Parchment and Twine!  The owner is super sweet and super creative!  So thankful I've found this shop because I've already eyed the invitation I want to use for Oliver's party as well!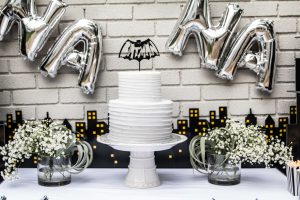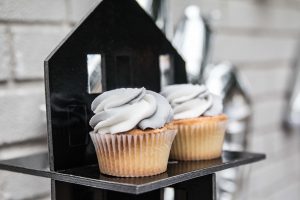 The cake and cupcakes were from my favorite local bakery Flour Girls!  The Batman cake topper was from Sugar Boo Bespoke Gifts on Etsy.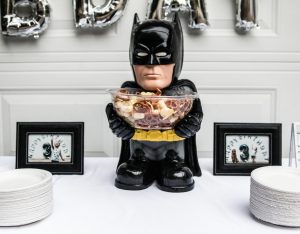 The cute little Batman is from Amazon!  We let Walt pick out three of his favorite snacks and we filled it with that, haha.  The Batman and confetti balloons are from The Cherry on Top on Etsy!
I set up a cape decorating station for all the kids to make their own superhero capes!  It was SUPER cheap and easy cutting out the capes.  I used the scraps to cut various shapes and got some fabric glue to attach.  We let all of Walt's friends take home their capes they made as party favors.  It was seriously so cute seeing all the kids running around in their capes.  My only regret is that we didn't get a picture of everyone in their capes together.
I also got a large piece of felt, cut out some clouds, and used the "Gotham City" border previously mentioned for a backdrop to make it look like the kids were flying!
–I think I may do a DIY blog post on how I made these!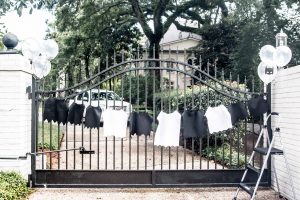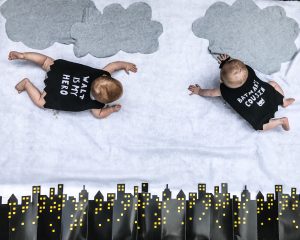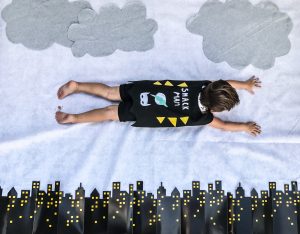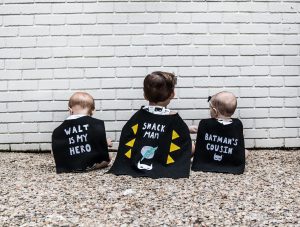 Last, but most definitely not least is the superhero show at the end of the party!  I looked everywhere to hire someone local to dress up as a superhero for the party but had zero luck.  I was pretty disappointed, so Davis came up with the idea to have him and our close family/friends dress up instead.  Davis came up with a whole skit that they performed, which ended with Walt getting his own Batman costume.  I mean, how cool is that?  Walt about lost his mind with excitement when they came running out.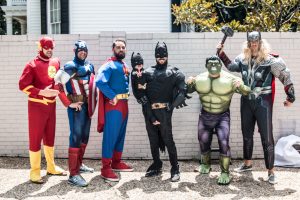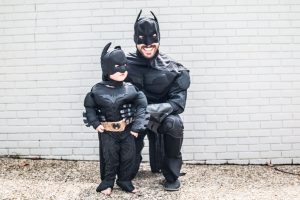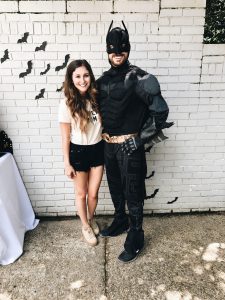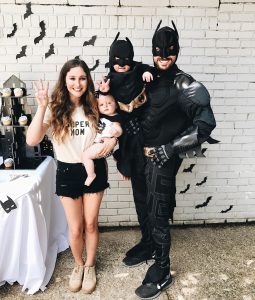 We love our precious boy so much and were thrilled with how the party went.  I'll never ever forget the smile he had on his face the whole day!  Happy third birthday Walt!  You're SO loved!