Being organized is something that is key to my happiness and helps keep my stress level down.  If I feel like I'm unorganized or my house gets unorganized, it sometimes makes me feel like somehow my whole life is a wreck.  I feel that way about travel too.  I like for all of my things to be in a certain place when I pack, and I really like being able to have items stored in their own pockets.  Everything just thrown into one bag drives me crazy!  When I first put my hands on the Lo and Sons O.G. Bag, I instantly fell in love.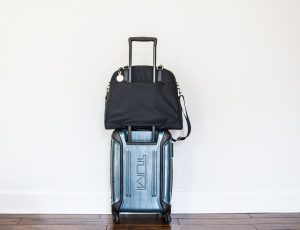 The O.G. Bag is truly eye catching from the outside.  It looks super sleek and simple for the modern gal.  I got the bag in an all black nylon with gold hardware.  Inside the bag is compartment heaven.  There's a padded laptop compartment (fits up to 13″ laptops; for fit reference, my MacBook is 13″), a pocket for tablet or work documents, front pockets for easy-to-access essentials, a side pocket for carrying an extra pair of shoes, and even a long leash for extra convenient access to your keys.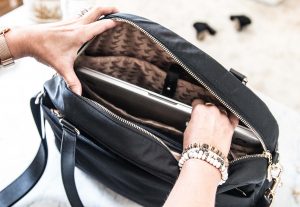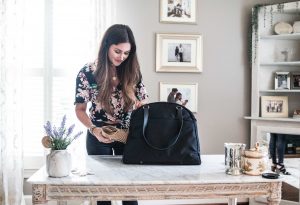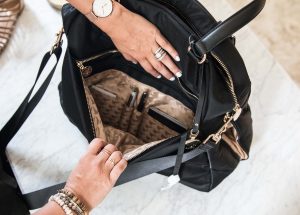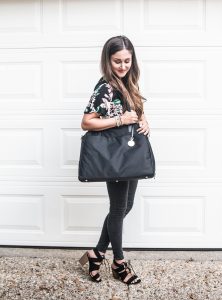 The O.G. Bag is designed for travel, and Lo and Sons seriously thought of everything for this bag.  It features an adjustable back panel sleeve that secures the bag over luggage handles and a detachable messenger strap for extra comfort on the go. Despite its spacious capacity, The O.G. is sized perfectly to fit underneath most standard airplane seats.  How amazing is that?  Even though this bag was designed for travel it also works perfectly as a diaper bag!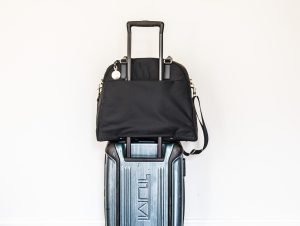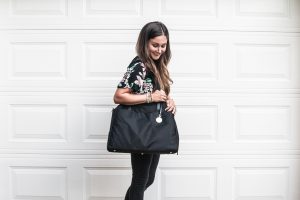 Christmas will be here before you know it and this bag would make the PERFECT gift.  It usually runs for $295, but it's currently 20% off and going for $236!